Written by SCC Admin
| 23 Jul 2021
---
When Ian, who splits his time between the Sutherland Shire and North West NSW, was diagnosed with throat cancer he was treated through the Head & Neck Multidisciplinary Team at St George Cancer Care Centre.
After surgery Ian commenced radiation and chemotherapy whilst at the same time meeting his team of healthcare professionals. Ian's team included a dietitian, radiation and medical oncologist, speech pathologist, psychologist and nurses.
At first Ian felt he wouldn't require any assistance however realised quite soon that he required them all.
Ian has looked back on his time during treatment and sees three things that were important in getting him through; his wife, his healthcare team and a place to get away to.
Ian didn't always know when he needed support and he speaks of the comfort he had in seeing familiar faces during his treatment.
The healthcare team also provided support for Ian's wife. She had her own support network at the hospital, a nurse co-ordinator who she could contact for information and support.
When not in treatment Ian was able to get away to their farm. 'Having a place to be away from treatment was important. For me that was our farm.'
It was during treatment that he bumped into a local farmer who lived a short way away. He and his 'neighbour' who stayed at Bezzina House during his treatment have become good mates and catch up for BBQs. Ian says they helped each other get through treatment.
As Ian returned to his farm he was keen to get back to work. Initially he could manage 1 hour a day. That turned into 2 and now he's back to normal hours, chasing cows, marking calves and digging holes!
Ian, like many other people with cancer experience a world class service in the St George and Sutherland community.
Supporting research is essential to ensure this remains the case.
Donate Now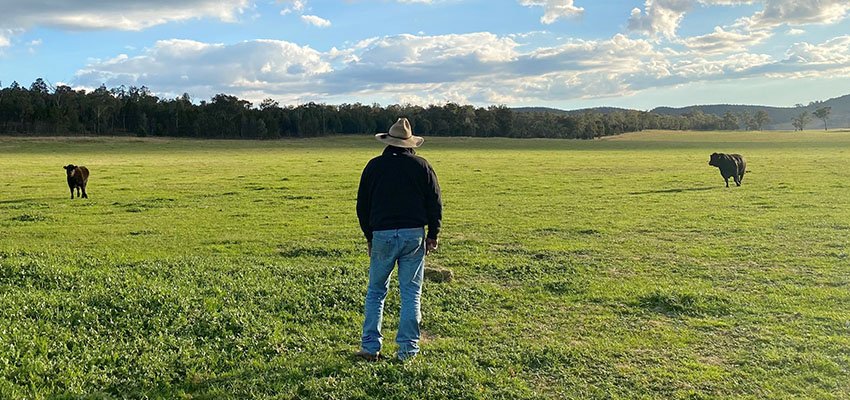 'I felt reassured seeing the same familiar faces during my treatment'